kanthari in den Medien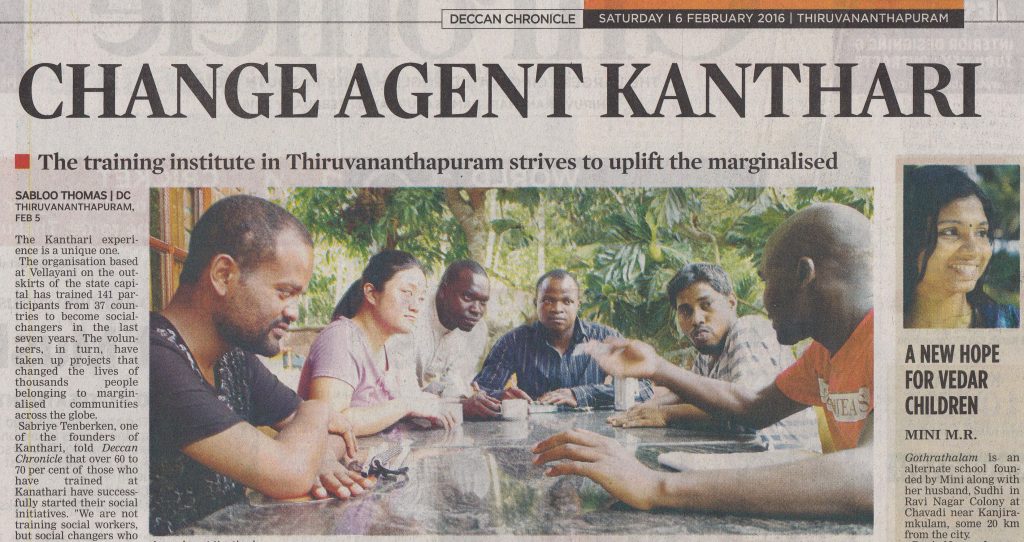 Auf dieser Seite finden Sie Links zu verschiedenen Artikeln/Videos/Podcasts, die über die Arbeit von kanthari und/oder kanthari-Absolventen veröffentlicht worden sind. Wenn Ihnen ein Artikel gefällt, wenn Sie Fragen und/oder Kommentare haben, schreiben Sie diese bitte in die unten stehenden Kommentarfelder oder schreiben Sie uns an office[at]kanthari[dot]org
2023
Sanjana Samraj, hat ein Video ueber kanthari zusammengestellt:
"Ein REVOLUTIONÄRES Leadership-Programm in Indien! MUST WATCH für angehende Führungskräfte!"
2021
– Yampier Aguiar Durañona hat paul kronenberg interviewed  'life is too important to get stuck' Stick Your Neck out podcast.
– Smita Tharoor hatte Sabriye Tenberken zu Gast in Ihr Stories of unconscious bias podcast
– Dieses Institut in T'puram bildet Menschen aus sozial schwachen Verhältnissen aus, damit sie anderen Menschen helfen können, die aus ähnliche Verhaeltnisse kommen. – Indian Express
-Dr. Heidi Forbes – Oste hatte Sabriye Tenberken und Paul Kronenberg: zu Gast in den Global Nomad Hacks podcast
– Mehrere Kantharis wurden von Yampier Aguiar Durañona von der Stiftung Giraffe Heroes Stick Your Neck out podcasts interviewt. Klicken Sie auf die Links, um die einzelnen Folgen anzuhören:
– Njeke Joshua Egbe – Peace Crops for Cameroon
– Carolina Ortiz – The hummingbird, (Bolivia)
– Sherin Noordheen – The strength to live (india)
– Sanoj NT – Dangerous life by the tracks, India
– KR Raja – A shared sentence, breaking the circle of crime (India)
– Meghana Raveendra – kanthari network of change and knowledge
– Pynhoi Tang's Sapphire Early Intervention Center (India)
– Gumisai Bonzo's Transgender realities (Zimbabwe)
– Robert Malunda's Gateway to Elation (Zimbabwe)
– Tiffany Brar – Leading to the light
– Lawrence Afere – OMLA, creating o new Africa
– Anja Paffenzeller – To Fly like Bats (Brasil)
– Harriet Kamashanyu's Rhythm of life (Uganda)
– Lorena Julio's message of inclusion and equality (Latin America)
– Limbi Tata Blessings' Ecological Balance for Cameroon
– Aparna and Ruang addressing cultural taboos (India/Thailand)
– Yoshimi Horiuchi about the power of books (Thailand)
– Jane Waithera's Positive Exposure (Kenya)
– Karthikeyan's Sristi Village, changing attitudes (India)
– Faruk Musema's Reverse Inclusion (Uganda)
– Kapila Rasnayake's world without Gender (Sri Lanka)
-Gram Tinashe Makwarimba – Invisible Women (Zimbabwe)
– Sarita Lamichhane – Sarita fights back (nepal)
– Akhina Mohan – Stand up and speak – alarmo (India)
– Abhilash John – the Great Indian Treasure Hunt (India)
– Precious Kiwiti – To hell and back (Zimbabwe)
– Sabriye Tenberken wurde von Amanda Bakker fuer den female Boss podcast interviewd.
– Ein Artikel von Pragya Raut über den Kanthari-Campus wurde veröffentlicht auf the ecopreneur
– Ein Artikel mit dem Titel "A spicy change – kanthari, Kerala, India" wurde veröffentlicht amn exchangetheworld
– Der indische Vlogger Sai Sethu veröffentlichte ein Video über Sabriye Tenberken auf seinem Kanal "Stay on the ground".
2020:
Die Giraffe Heroes Foundation, eine Organisation, die die Arbeit von außergewöhnlichen Veränderern hervorhebt, hat mehrere Kantharis in Podcasts vorgestellt. Klicken Sie auf die Links, um sie anzuhören:
– Trevor Molife from Zimbabwe, Gruender von Purple Hand Africa
– Sristi KC from Nepal, Gruenderin von Blind Rocks!
– Tony Joy from Nigeria, Gruenderin von Durian arbeitet mit Kinder und Frauen in Nigeria
– Abhijit Sinha from India, Gruender von ProjectDEFY arbeitet an alternative Lernmethoden
– Ojok Simon from Uganda, Gruender von Hive Uganda, blidet blinden als Imker aus.
– Empowering the Marginalized, interview with Sabriye.
– Ein Artikel ueber Sabriye und kanthari  MadeHerStory
– Ein weiterer Arikel gab es in Newzhook
– Auf dem bemerkenswerten Weg vom Kriegswaisen zum Friedensstifter– Peter Adeeko, Soulace Africa: imamediation
Dieses Duo unterstützt mit seinem Trainingsprogramm Randgruppen dabei, den sozialen Wandel in ihren Gemeinden voranzutreiben: yourstory
– Tiffany Brar wurde mit dem Holman Prize 2020 geehrt – The new Indian Express
– Inspirierende Männer: Bau eines Dorfes für Obdachlose Menschen – Stories of Change – Anumuthu
– Umwelt: Schaffung von 26 einzigartigen Wäldern in Tamil Nadu – Stories of Change – Ragunath
– Become a spicy change maker: Deccan Herald
– 27-jähriger Anwalt gibt alles auf, um über 2000 Landwirten in Bihar durch Agroforstwirtschaft zum Erfolg zu verhelfen– The Better India
2019:
– "kanthari Spread the Spice" and article in The Hindu
– Ein Artikel über kanthari wurde auf der Website von The Pollination Project veröffentlicht The Pollination Project
– Ein langer Artikel in Malayalam wurde in The Better India veröffentlicht
– Ein Artikel in Malayalam erchien in TheManorama
– Gemeinsame Bemühungen, den Vellayani-See am Leben zu erhalten  The Hindu
2018:
– Jeden Tag zwischen fünf und sieben Uhr abends reinigen Teilnehmer und Katalysatoren den See.Die Zukunft des Vellayani-Sees liegt in unser aller Hand.
Ein Artikel über die Hilfe für den See wurde in der Hindu veröffentlicht hier
– Unvollkommenheit ist die Mutter der Erfindung – Deccan Herald Bangalore
– Am 3. März 2018 wurde im Deccan Herald ein Artikel über Kanthari mit dem Titel Sea Change veröffentlicht.
– "Eine Reise von der Marginalisierung zu einer starken Führungspersönlichkeit" – – The stories of Change 
2017
"Sabriye Tenberken erzählt Studenten der EBS aus ihrem Leben als Blinde" – Wiesbadener Kurier 
"Dokumentarfilm über kanthari – Change from within – http://kantharichangefromwithin.com/
"Once the World understands the power of imperfection, discrimination will vanish" – Sabriye Tenberken in der Times of India
2016
TEDx Talk Sabriye Tenberken – TEDx Maastricht Talk Sabriye Tenberken
TEDx Talk Paul Kronenberg – TEDx Maastricht Talk Paul Kronenberg
Do you need a Vision to be a Visionarie – Gespräch im Vatikan mit Sabriye und Paul – Talk in The Vaticam on Womens Day 2016
Architects for Humanity – kanthari – architecture-for-humanity-kanthari/
How To Turn Your Downside Into A Distinctive, Potent Upside – Forbes 
2015
2014
A School, and a Future, for Blind Children
Sabriye Tenberken trains the people who wants to change the world
Author Interview: Rosemary Mahoney, For The Benefit of Those Who See
WINGS Fellow Sabriye Tenberken spoke about her latest work in India
Phenomenal Woman: Sabriye Tenberken
ein-campus-fuer-visionaere-aus-aller-welt
2013  
kanthari and Social Entrepreneurship
'World is more beautiful for me now'
Chillies that make a difference to the world
The birth of a vision kanthari: a Leadership Training Institute for Those Who Wish to Create a Better Society
Woman Unusual
UST Global and kanthari International
2012
Dreams without borders: A sustainable model for social change Changing Mindsets
Sabriye Tenberken: A true 'kanthari'